There are a few weird things I do.
If I am getting myself a drink I always put in 7 ice cubes, must never be 6 and more than 7 is just too crowded in the cup. Yup, weird.
When I am loading the dishwasher silverware slots I have to have equal forks, spoons and knives in each slot. Yup, that's weird too.
MUST BE sock, sock, shoe, shoe. NEVER sock, shoe, sock, shoe.
And lastly when I kiss my kiddies at night I always kiss them twice on the lips and once on the forehead. I don't find that one too weird :)
What things are you a little OCD about?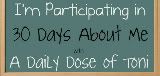 au revoir, adieu, ciao, till next time...