Can I say I don't like clothing stores? OK, so maybe

I don't dislike them,

but I'm not a fan. Clothes shopping is more out of necessity than just for fun for me. Plus I live in a small town so we don't have many choices...
I love
little independently owned boutiques
down town.
I love
homemade items
from the local farmers market.
I love
when my mom gives me clothes
she doesn't want anymore (mostly because she is smaller then me so if they fit that means I've lost weight!)
Now,

shopping for accessories I really enjoy!
purses, shoes, sunglasses (I have a serious addiction to expensive shades), costume jewelry and scarves. good times :)
What is your favorite clothing store?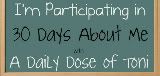 au revoir, adieu, ciao, till next time...