Favorite Television Show...
I'm not the biggest fan of TV these days, I hate the commercials they air durning "family time." It's all scary horror movie previews or foul language or weird 20 somethings making out. My kids don't need to see that! We generally stick to The Discovery Channel, TLC, Travel Channel and the History Channel.
Gotta start with

SWAMP PEOPLE
Everyone in our house loves this show. From the silly ZZ Top looking Guist brothers (who seriously could survive anything!), down to Troy shouting "Liz-a-beth! Choot'em!!"
I have no clue why I find this show so exciting. It's reality television without all the drama. Just hard working Americans doing what they need to survive. OK, so maybe there is drama, but it's manly drama, ha ha.
Then there's

Bert the Conquerer
This guy cracks me up! Bert Kreischer travels all over America looking for the next big thrill. He has jumped off cliffs in Hawaii, raced down huge roller coasters in North Carolina and skiied into giant freezing ponds up north.
Its not so much the places he visits or the thrills he attempts that keep me coming back. It's his scared facial expressions and the girly screams that come out of him! I laugh every time :)
Since we are knee deep in one of my favorite times of year let's highlight

SHARK WEEK

.
I love love love Shark Week! Each year I count down as the time gets closer. I have always loved sharks, so mysterious and misunderstood. Plus they're just plain awesome.
So naturally when Discovery Channel airs an entire weeks worth of shows dedicated to them I am there! I have blogged about Shark Week in the past

HERE

. Be safe out in that water kiddies!
There you go, a few of my favorite television shows. Sure I like some of the standard favorites like American Idol and America's Got Talent, but those are more "save me from my boredom" type of shows.
Happy TV viewing friends.
Tomorrows topic: Favorite Book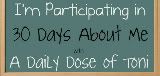 au revoir, adieu, ciao, till next time...