With school getting ready to start it has me all nostalgic about 1st days of school from years past. It seems like only yesterday my munchkins were tiny babies wrapped up in my arms. This year my daughter will be in 2nd grade and my son in 3rd. It just goes by too fast!
These pictures make me smile, we always commemorate the first day of school with a picture. It makes me happy that they both love school so much and that they look forward to each new year.
The munchkins go back August 18th this year and we will once again take our annual picture. And these are pictures that make me happy.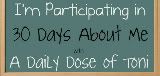 au revoir, adieu, ciao, till next time...