Today's prompt is a picture of you 10 years ago and a picture of you today. This is perfect because it is almost my wedding anniversary (August 17) and even though it was 9 years ago, I am going to use this anyway :) I'm sure no one will mind.
And here we are a decade later, still going strong. This man can drive me crazy like no other, and yet he can love me like no other in that same instant.
Wow, it really doesn't seem like that long. All the changes that have taken place, all the things that have stayed the same. One last treat, me in High School(junior year I think) AHHH SCARY!
It was nice reflecting today. Now I feel old!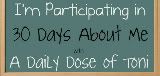 au revoir, adieu, ciao, till next time...