Favorite Song...
Here we go, this is me attempting to get back into blogging. It has been quite a long time since I was a regular visitor here at Infectious Chatter. So day 1 is favorite song. This is probably the hardest question someone could ask me. If you know me personally you know that I am one of the most indecisive people on the planet. ("Do I want a white radio to match the kitchen or a brown one to blend with the walls? Or I could get a black one and be contemporary, hum, but maybe off white seems a bit more classic...") Yeah that's about how

every decision

in my life goes.
How in the heck do I narrow down my favorite when I generally like almost every song I hear?
I grew up in a very musical family. My mom always sang in the church choir. My dad is a drummer, I remember dancing to his beats as a little girl in our garage. I have played the piano forever, and

still

turn to those lovely ivory keys whenever my heart needs a release.

Music is like poetry, it heals, comforts and soothes whatever mood you may be in.
Favorite artist is a little easier: Adele, Dixie Chicks, Evanescence, Garth Brooks, Jason Aldean, Jason Mraz, Lady Antebellum, Metallica, Mumford & Sons, Muse, OneRepublic, Regina Spektor and many many more. Yup I am all over the map!
Of course there are the classic favorite songs that re-create a moment in time:
I tend to be drawn to slow melodic tunes.

They're more fun and emotional to learn on the piano. Here are a few songs I have played over and over on my iPod:
Jeff Buckley "Hallelujah"
Adele "Someone Like You"
Jason Mraz "Life is Wonderful"
Miranda Lambert "The House That Built Me"
I guess I really didn't answer the question of what is my favorite song. Tomorrow it will be another set of songs I favor, but such is the way of music. It is

ever changing

and always just what you need at that moment.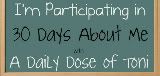 au revoir, adieu, ciao, till next time...