Could there be a more difficult question??? Well I know my favorite musicians for sure! (for those who have followed for awhile, you've already seen these pictures, sorry!)
The little drummer boy rockin' out
There's my girl jammin' on her guitar!
Hum, music I like. This is a mix bag of everything under the sun so I'll just make a list:
My Dad, he has been a drummer since he was a kid. I love watching him play, he loves what he does. I hope my kids inherit his passion for music and follow their dreams just like him.
Adele

Cydi Lauper

The Doors

Metallica

Jason Mraz

Darius Rucker

Lady Antebellum

Miranda Lambert

Brett Dennen

Bruno Mars

Ke$ha

Damien Rice

Jason Aldean

Katy Perry

Mumford & Sons

Muse

OneRepublic
That's probably a very small list that I can think of right now, and I'm sure as the day goes on I will think of like 20 more I should add to this list. But for the most part I like artists with musical passion no matter what genre.
What's your favorite Artist/Band?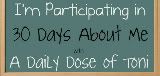 au revoir, adieu, ciao, till next time...